Our house could be your home
Welcome to Parade House. Parade House is situated in the heart of the beautiful Wye Valley, in the market town of Monmouth.
Parade House is ideally situated for the elderly, being within easy and level walking distance of Monmouth town centre. With its toytown streets and abundance of shops, churches, coffee houses and inns, Monmouth is perfectly pretty. Monmouth is the kind of place to escape the rat race, while still retaining a thriving culture.
The 'Parade House' building dates from 1740 and has been carefully restored, maintained and further extended. Our aim is to provide a country house atmosphere, with a comfortable environment in which our Residents can continue to enjoy their individual way of life. Further renovation work throughout 2017 and 2018 have further improved the facilities and appearance of Parade House. This shows our commitment to preserving the history of the house and the comfort of our resident alike. Read more about the house…
A warm welcome awaits you at Parade House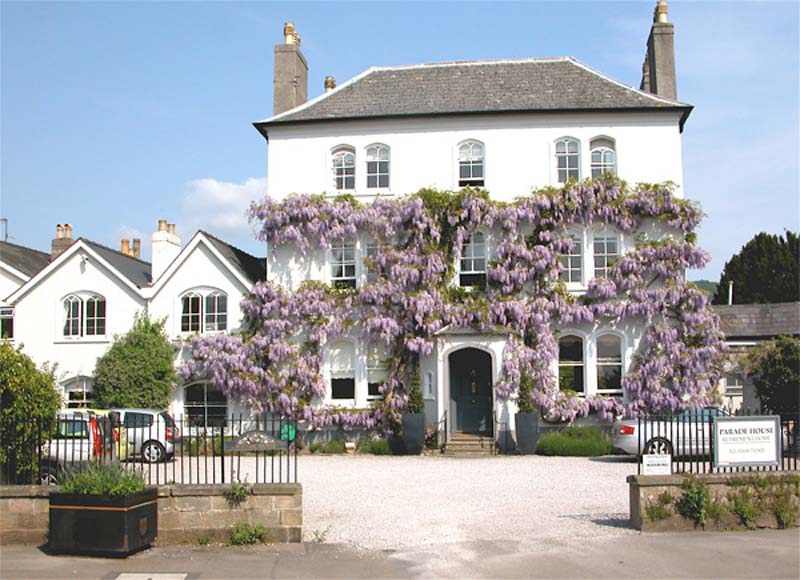 Parade house first opened its doors as a residential home in August 1987.
Maureen and Bill Rayner, and their family purchased the beautiful Georgian house in 1986. They set about establishing Parade House as a retirement home of the highest quality.
Over the past thirty years, the business has gone from strength to strength. Since 2015 Pauline Mann has taken over the position of manager and holds the NVQ Level 5 Health and Social Care in Management and Leadership qualification.
At Parade House we are committed to providing a happy secure and comfortable home for our residents. Our aims are to offer as much support as required, whilst maintaining respect for privacy. We understand your concerns and are always here, helping to maintain personal dignity and independence whenever possible.
We aim to offer an atmosphere of care which enables our residents to live as full interesting and independent a lifestyle. Rules and regulations are kept to a minimum, resident happiness and comfort is our priority.
Parade House is committed to providing a quality service with caring, competent and very well trained staff. All our staff undergoes regular training, the majority attaining NVQ qualifications.